Our newest upgrade on Me We Too is for all the single people!  (I can't help but think of Beyonce's "Single Ladies" here, right!!)  If you're 18 years or older and single, you can now connect the free dating app Friends Match Me to your Me We Too profile.
If you don't have a Friends Match Me profile yet, join on their website at www.friendsmatchme.com or donwload the app on Google Play or the App Store (click on the links or search for "friendsmatchme").  Friends Match Me is 100% totally free – no hidden fees or catches like the other dating app!  On your Edit Profile page there, you can connect your Me We Too to your Friends Match Me account.  Then on your Me We Too Edit Profile page, you can also optionally choose whether to display your Friends Match Me profile/link to other members who have also made the connection.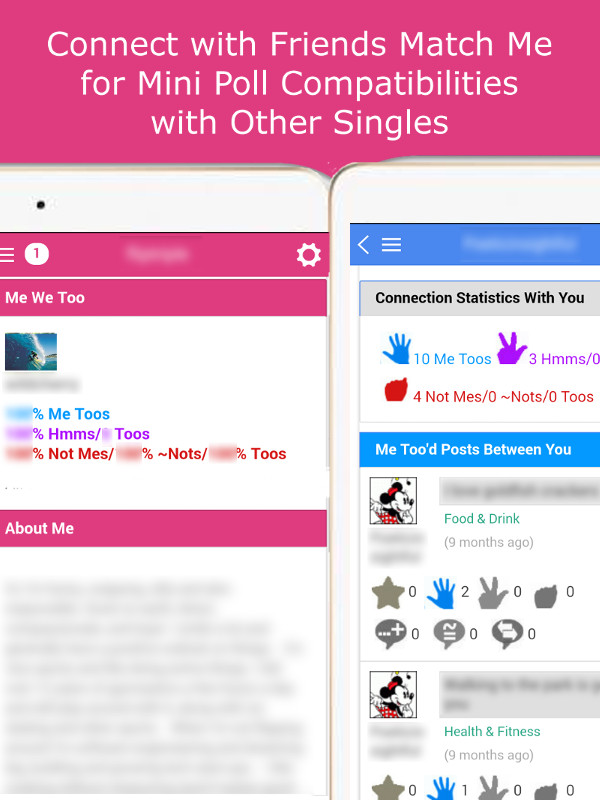 Connecting Friends Match Me to your Me We Too can give you fun, interesting, and insightful mini poll compatibilites info with other single members – your Me Too's/Hmms/Not Me's – i.e. which Me We Too posts you agree/disagree on.  We hope you like it and enjoy!
If you get a true love store let us know!  Friends Match Me is for real relationships for singles worldwide!
We welcome your feedback!
And you're probably singing it by now so, here it is…lol