A CEO of telemedicine company VisuWell in Tennessee, got fired for publicly making fun of male Franklin High School senior Dalton Stevens for wearing a dress to prom with his boyfriend.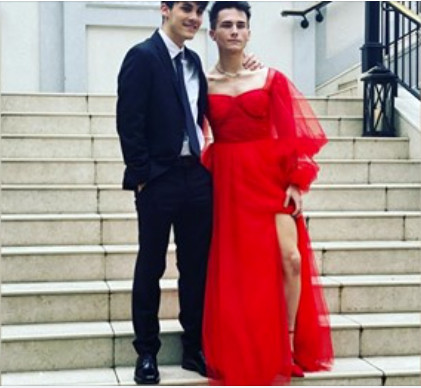 Stevens felt good wearing it:
"I very much view clothes as genderless," said Stevens.

"I was very confident," Stevens said. "I knew that I felt beautiful, and I felt great."

(via https://www.kron4.com/news/national/ceo-fired-after-publicly-ridiculing-tennessee-teen-over-his-prom-dress/ )
His boyfriend, Jacon Geittmann, supported him all the way:
"He did his big 'prom-posal' and asked me to prom," said Jacob Geittman, Stevens' boyfriend. "And he decided he was going to wear a dress, and I'm like, 'Okay! You're going to look good in it!'"
The harassment from the CEO, later identified as Sam Johnson, took place in downtown Franklin at the Harpeth Hotel, while Steven and Geittman were taking pictures.
"Slander terms thrown towards me of like 'You look bad,' 'You've got hair on your chest, you shouldn't be wearing a dress,' 'You're not a man,' blah, blah, blah," Stevens explained. "The fact that he thought he had the audacity to come tell me what I was supposed to wear and what I was supposed to do because of his standards."

.."I think clothing should just be taken as a piece of cloth and nothing more," said Stevens. "Everybody should just wear what they want and shouldn't be ashamed to wear anything because of societal standards."
The public shaming was caught on cell phone video by Geittman, and Johnson was fired Monday.
"You can have your thoughts and opinions, [but] keep them to yourself," Geittman said. "You don't need to go up to a teenager in public on their prom night and publicly shame and harass them for what they decided to wear."
Under the leadership of a anti LGBTQ CEO, @VisuWell is not qualified to provide best care for our communities.
Sam Johnson, CEO of VisuWell harassing a trans kid pic.twitter.com/EHXn72MAt1

— Island Girl ????? (@DearGoodPeople) April 26, 2021
VisuWell posted their support for the LGBTQ community on Twitter:
We share the concerns that so many have expressed on this matter and look forward to announcing concrete steps we are taking in support of the LGBTQ community in particular over the coming weeks.
#BeYou