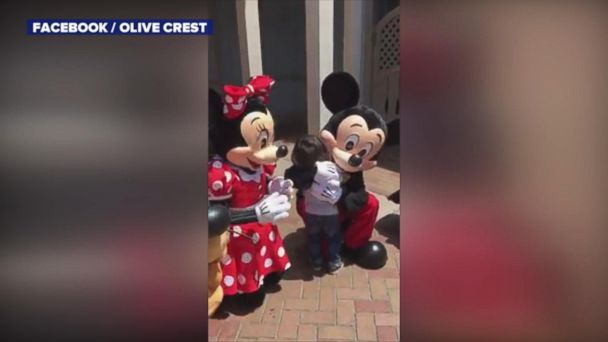 Language is one of the greatest tools with the power to connect and to feel connected.  One little boy in Disneyland felt the love when the Disney characters spoke to him in his own language:
Mickey and Minnie Mouse kneeled down to the small child to sign "It's nice to meet" and "I love you," which prompted him to give them each big hugs.

"The child was ecstatic after meeting the characters because he didn't know they would speak 'his language,'" a spokesperson for Olive Crest, a child abuse prevention agency that arranged the trip, told ABC News. "The child is typically not a hugger, so the fact that he hugged both Minnie and Mickey spoke volumes to the joy he felt."

…

"The family had a Disney translator with them, who was behind the boy telling the characters what/how to sign. The encounter wasn't planned, however," said spokesperson Steven Macias.

(via "Mickey and Minnie Mouse sign 'I love you' to deaf boy at Disneyland", Yahoo! News)
Pluto, Minnie, and Mickey were quick to follow the ASL translator's guide on what/how to sign and made the Disney trip even more special for the young boy.
Watch the video on YouTube:
You can also watch the sweet video on Olive Crest, Facebook's Facebook page here.
Olive Crest serves over 3,500 at-risk kids and families every day throughout California, Nevada, and Washington. They "hope to send the message that with a little love and 'magic,' that you can truly make a child's dream come true and provide them a bright memory that can last a lifetime."