Pretty common to meet people walking their dogs outside, not so much cats – but it's happening.  On the First Caturday (the first Saturday of each month for cat lovers) there are regular gatherings at Delores Park in San Francisco and Lake Merritt in Oakland, to socialize and share tips about taking out your indoor cats.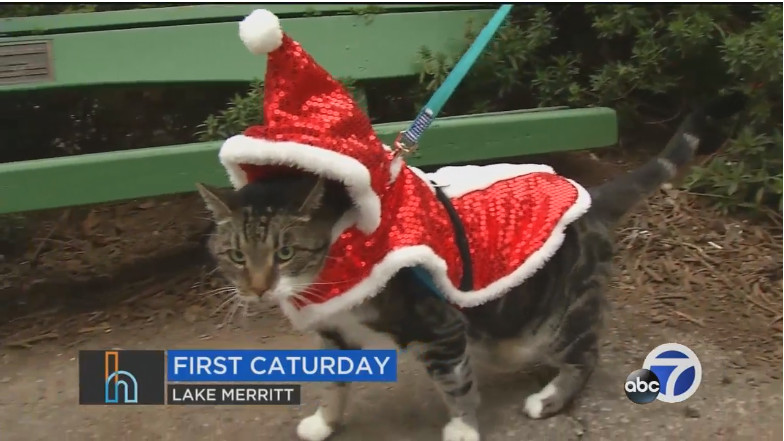 Here is Boojie Baker, a 17-pound housecat tabby saved from a Bakersfield kill shelter by Sherry Loewinger.
"He was on death row, so I drove all the way down from Oakland to pick him up and he's been with me since 2009," said Loewinger…

Loewinger says people are often surprised at how well many domestic cats take to leashes, and the group is happy to advise cat owners who want to come out and give it a try.

"I just bought a harness and said, "We're doing this," and cats just adapt within a couple of minutes," said Loewinger. "I think they enjoy being outside. This is his chance to go outside in a controlled environment and not get hit by a car or have a run in with a raccoon."
(via ABC HOODLINE, "Bay Area Weekend Events: Walk your Indoor Cat, Goldendoodle Gathering, Sing Along with Moana")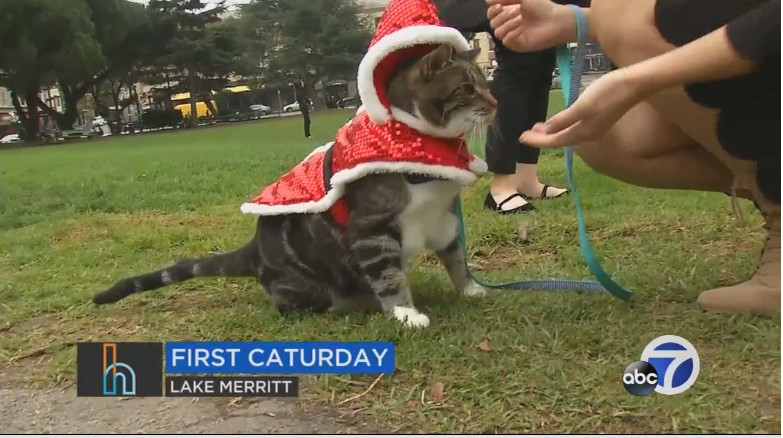 "He is not afraid, he's very confident and he's the boss and he knows it," said Loewinger of her cat Boojie
Loewinger started the Oakland chapter of First Caturday; they meet on the corner of Grand and Bellevue at Lake Merritt on Saturday, Juanuary 6th, 1:30pm-4:30pm.  Just bring your cat, leash, costume optional.
It is a day for delightful outdoor cat-napping and socializing. ??
It is where we can freely exchange information, friendship, and joy to help make our cats happy and healthy. ?❤️?
Some cats actually like leash walks, others stroller walks, and still others just to come to the park in their pet carriers to listen to the birds singing
(via Facebook event page First Caturday Oakland)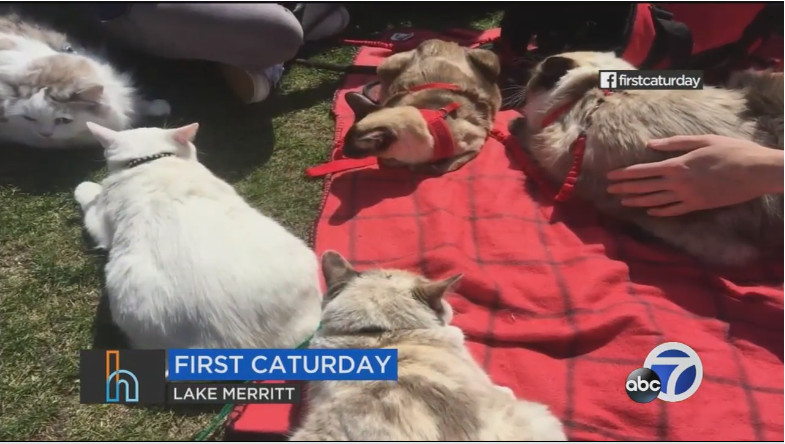 Join Me We Too free and check out / vote on some related Me We Too posts:
"I am not just a dog person or a cat person. I love both a lot! :)"
"I think of my pets as my children. It makes me so angry that they are considered mere property and very few crimes against animals are punished."
"Cats are way better than dogs, they're so cuddly!"
Got an opinion? Write about it on Me We Too!
You can also download the Me We Too app free on Google Play and the App Store.