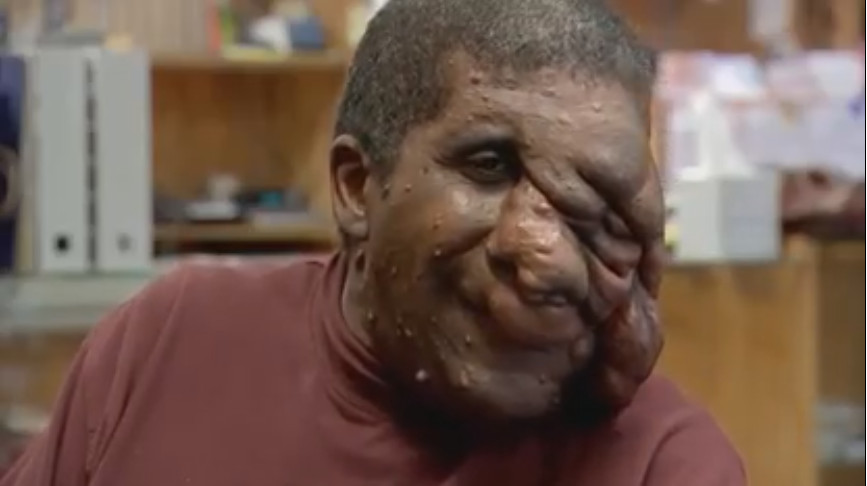 Reggie Bibbs, 52, has tumors growing on his skin, including his face, from neurofibromatosis (NF).  He requested an Uber last Monday to drive him to the Texas Medical Center for an appointment to get blood work done.  Bibbs said the Uber driver came to his street, made eye contact with him as he was standing outside, noticed his appearance, made a double-take passing by his house twice, and then canceled the ride:
"I saw him pass by. He looked right at me. He was going real slow. He just passed the house. I could see the brake lights on. He went a couple of houses down. He turned around and came back by the house again. He went real slow," Bibbs said. "I'm looking at him. He's looking at me. He just keeps going down to the end of the street. When he got to the end of the street, I got a message that said unfortunately your driver canceled. That was it. There was no explanation."

Bibbs said he felt embarrassed and shocked. He said he believes the driver canceled the ride because of his appearance.
(via ABC, "Houston man with genetic disorder says Uber driver canceled ride because of his appearance", click for video)
Bibbs works with the non-profit Courageous Faces Foundation and they are now exploring their legal options against Uber for discrimination.  Bibbs said he wants the company to offer sensitivity training to drivers working on their platform.  KTRK-TV reached out for Uber's response and they released the following statement:
"The situation described here is unacceptable and has no place on the Uber app or any place. We apologize to Mr. Bibbs for the experience reported to us and we have been in contact with the driver to re-emphasize Uber's Community Guidelines, which prohibits any form of discrimination on the app.

Here are our community guidelines, these ground rules are designed to ensure that riders and drivers have a five star ride when using Uber.

We also have a national non-discrimination policy. Uber seeks to ensure that safe, reliable, and high-quality transportation options are available to everyone. Uber and its affiliates therefore prohibit discrimination against riders or drivers based on race, religion, national origin, disability, sexual orientation, sex, marital status, gender identity, age or any other characteristic protected under applicable federal or state law. Such discrimination includes, but is not limited to, refusing to provide or accept services based on any of these characteristics. Any rider or driver found to have violated this prohibition will lose access to the Uber platform."
Posted on Facebook, there are many comments in support of Bibbs and non-discrimination, as well as in support of the driver's feelings to cancel, addressed by this Facebook comment by Michelle A.:
Michelle A. All you who say you would cancel or you can't blame the driver really need to look I. The mirror. Having an NF1 child isn't the easiest life in the world. Being a parent to an NF1 child has been a hard 12years. Get educated on it before you think of putting someone down for a genetic disorder. I'm so heartbroken to read your comments as a parent of a child with NF1. My child gets bullied so much for her disabilities and she looks just like any of you but because tumors are in her brain it makes her steps behind. Ugh so much disgust for you bad people.

For all the non educated people and heartless ones "May God bless you to have a kinder heart"

Watch "Mandisa – Bleed The Same (Lyric Video) ft. TobyMac, Kirk Franklin" on YouTube
https://youtu.be/UEzCQBwQkdA
We all bleed the same.  And we all have feelings.